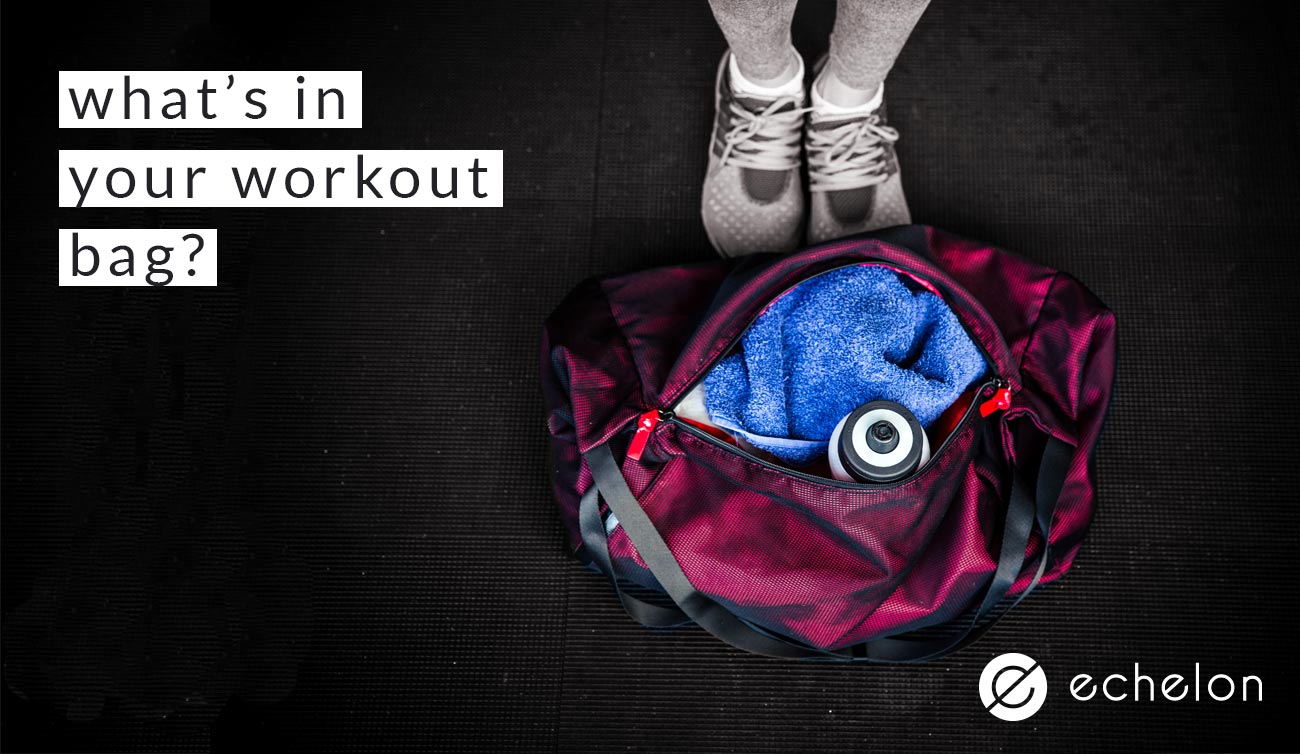 07 Dec

what's in your workout bag?

what's in your workout bag? we speak with echelon founder and indoor cycling enthusiast, Carla Bredin, about what she keeps in her bag for each indoor cycling class
face wipes
for an express solution after i work out (or jump in the sea) I use the body shop tea tree facial cleansing wipes. They remove makeup and sweat and the tea tree feels so refreshing as i'm cooling down after an intense sweat fest. they smell incredible, and they're bio-degradable.
(not an ad, not being paid, just a happy consumer).
reusable water bottle
not only in my workout bag, but in my laptop bag, at my desk, in the car; hydration is king. 35mls per kilogram of bodyweight is the calculation we recommend to find your average daily needs. on days where i teach, i need an additional litre during and after class, and it's not uncommon for me to hit 3.5l on a work day. i'll always have a water bottle on my desk because keeping it where i can see it reminds me to use it. i take my empty water bottle through security when flying and fill it up at a water station/fountain. the less plastic we use, the better, and finding a brand that is environmentally friendly is a good idea. i love my frank & green stainless steel bottle (not an ad per se, but we do sell them in the studio, so… kind of an ad).
electrolyte tablets
i'll often add an electrolyte tablet to my water if i'm working out or teaching first thing in the morning as i'll be dehydrated from a night of fasting. there's a tube of nuun in my bag, but any formulation of electrolytes that includes sodium, potassium, calcium, magnesium and chloride will do. some of them also contain caffeine, or a little bit of additional energy via glucose or dextrose – handy for early morning workouts, but i'll go for a coffee and a banana over caffeine and glucose supplementation.
earphones
music is integral to my workout, and i carry earphones with me everywhere. you'll find me on the dart tapping out an rpm and blasting the tunes for my next class. i love earphones that are designed for sport, that stay put when you run, can withstand sweat streaming into the ear canal, and have a microphone with volume control to answer calls or skip tracks without having to remove your phone on a run.
heart rate monitor
what can i say, i love me some tech. i utilise rate of perceived exertion (rpe) and 90% of the time, how hard i think i'm working correlates nicely with how hard i'm actually working. if i feel like i'm working at an 8/10, the heart rate monitor will likely be reading 83%. however, there are times (if i'm a bit stressed or dehydrated) where my rpe can go way off. everything can just feel so much more difficult. the data gives me a clearer sense of the effort and the training zone and allows me to push a little extra. even more importantly are the times it allows me to pull back. it's paramount that i listen to what my body is telling me – maxing it out is not a badge of honour. a heart rate monitor lets me hover in the moderate zone on days where that's what my body needs.